Published on : 10 August 2019 at 13:49 UTC
Hyper-V is a hypervisor (or virtualization server) created by Microsoft that is available :
free for its standalone version. For example : Microsoft Hyper-V Server 2012 R2
as a role in different versions of Windows Server (which are paid)
as a feature under Windows ......
in several versions : Hyper-V 1.0, 2.0 and 3.0 (for the version available on Windows Server 2012 R2)
Warning : for those who wish to virtualize this hypervisor, with VMware Workstation or VirtualBox for example, know that this will probably not be possible.
Indeed, by default, Hyper-V will not work in a virtual machine. Although some have managed to make it work using nested virtualization.
1. Required configuration
As previously explained, it's almost impossible (unless you're lucky) to virtualize Hyper-V with virtualization software, such as : VMware Workstation or VirtualBox.
So, you will need :
2. Configuration used
For this tutorial, we used :
3. Join the Hyper-V server to an Active Directory domain
Although this is not necessary for the proper functioning of a Hyper-V server, this will become necessary if you want to create a Hyper-V cluster.
In our case, we linked our Windows Server 2012 R2 server to our domain : informatiweb.lan.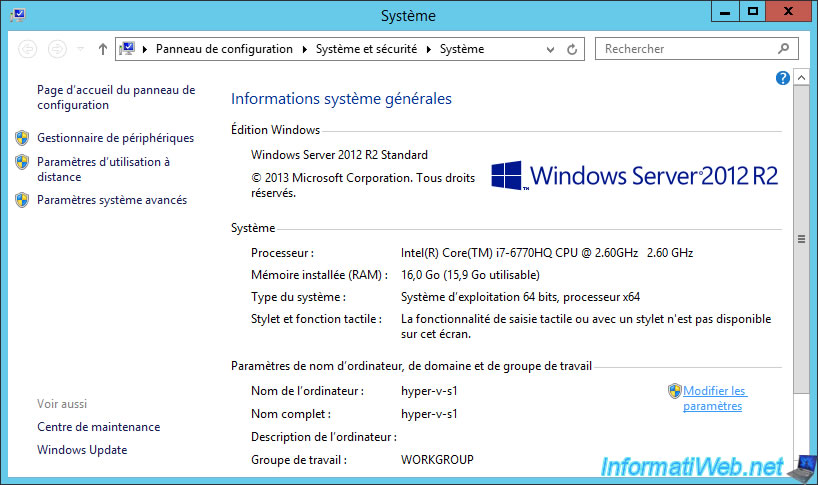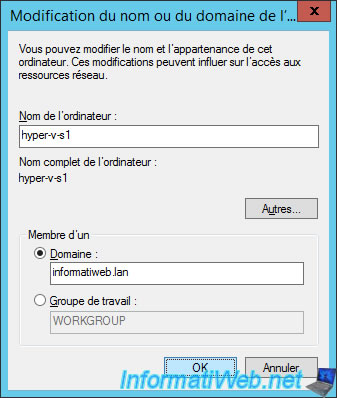 Now, our server is a member of our Active Directory domain.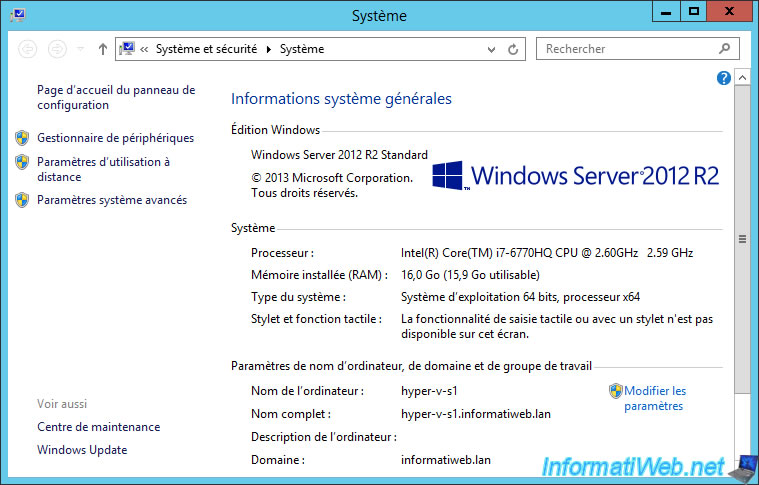 4. Installing the Hyper-V role
To install Hyper-V on Windows Server 2012 R2, simply install the Hyper-V role.
For that, in the server manager, click on "Add Roles and Features".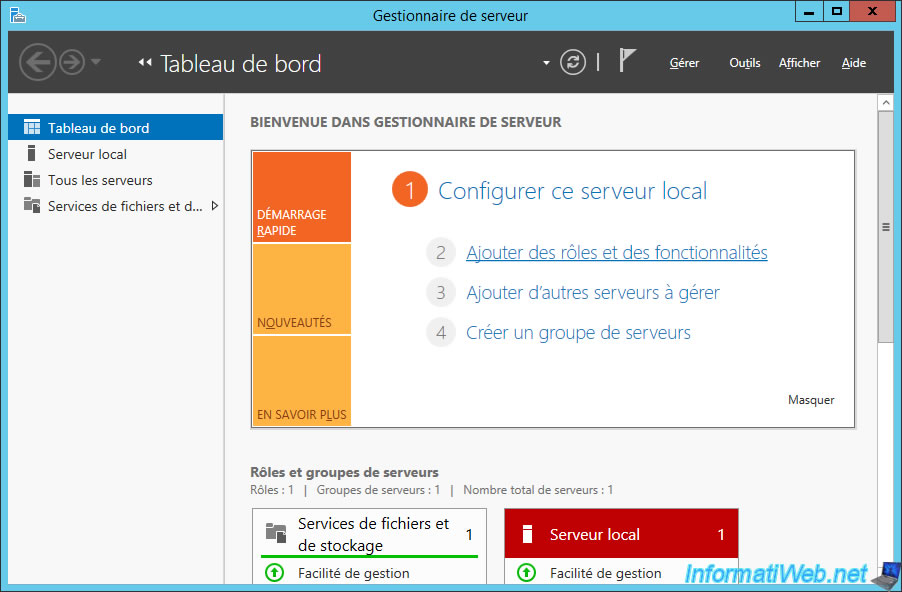 Leave the option "Role-based of feature-based installation" checked.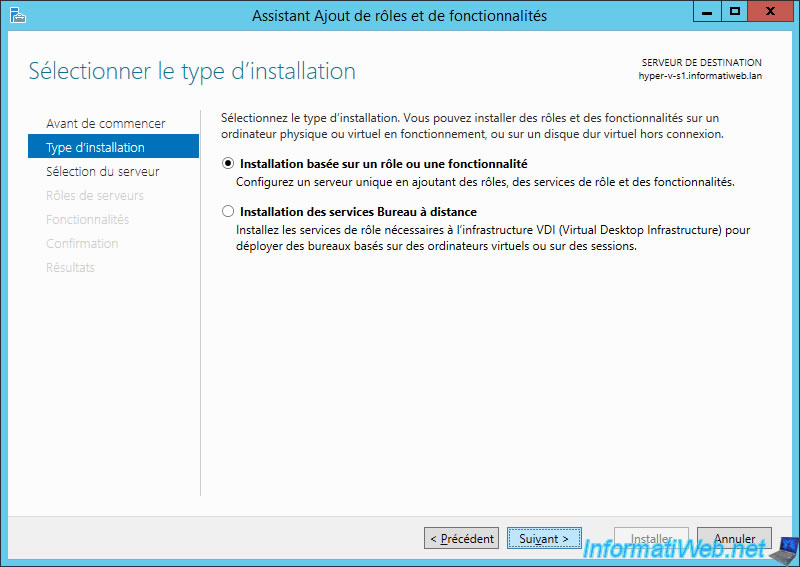 Check the "Hyper-V" box.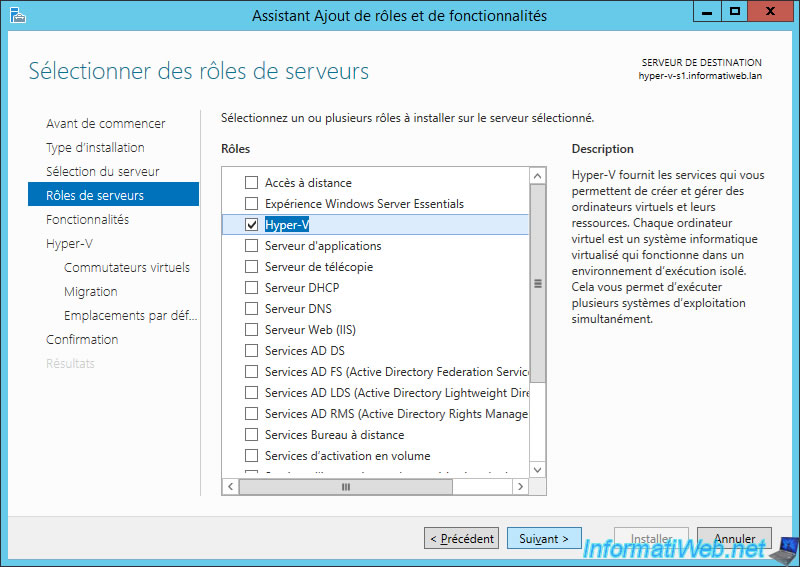 Windows Server displays a description of the Hyper-V role.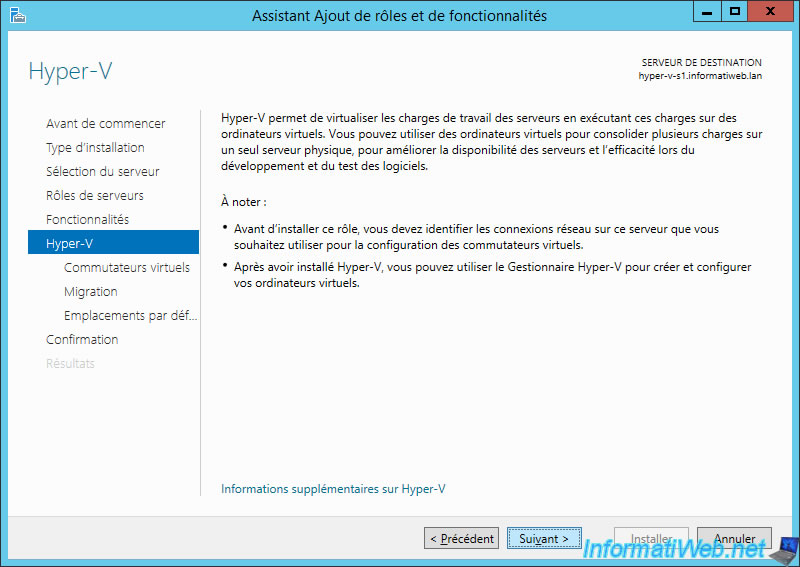 Windows Server will ask you to create virtual switches.
Simply check the box corresponding to the physical network card of your server and click Next.
Then, the virtual machines that you create in Hyper-V will use this network adapter to access the network (and the Internet, if applicable).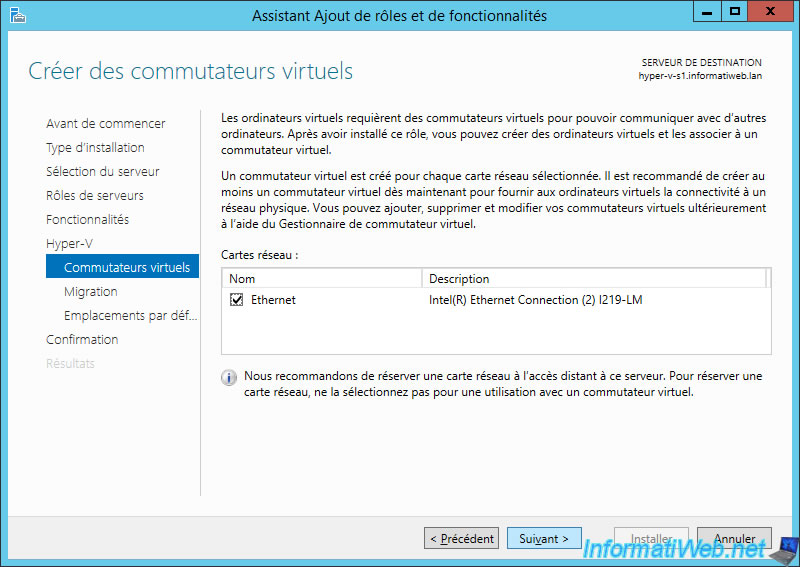 If you want to allow virtual machine transfer from one Hyper-V server to another, select the check box : Allow this server to send and receive live migrations of virtual machines.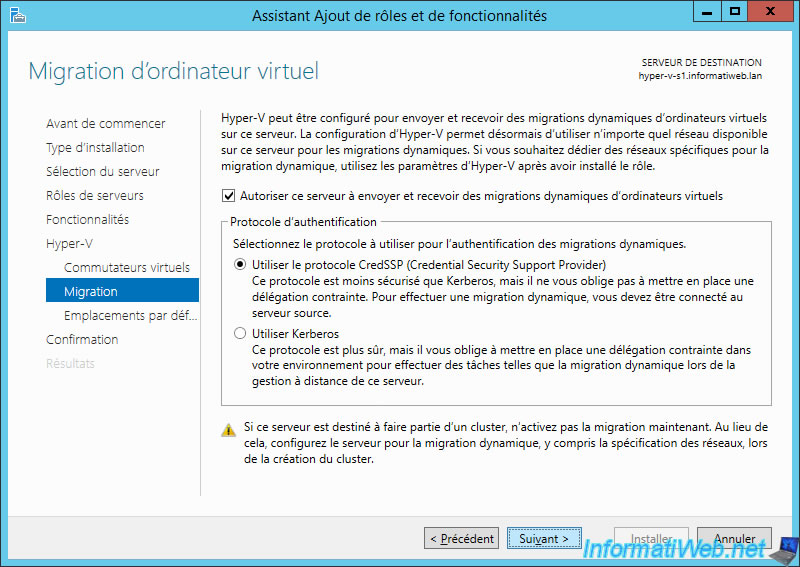 Change the locations to use to store the virtual hard disks of your virtual machines, as well as their configuration files if you wish.
By default :
virtual hard disks will be stored in this folder : C:\Users\Public\Documents\Hyper-V\Virtual Hard Disks
configuration files of your virtual computers will be stored in this folder : C:\ProgramData\Microsoft\Windows\Hyper-V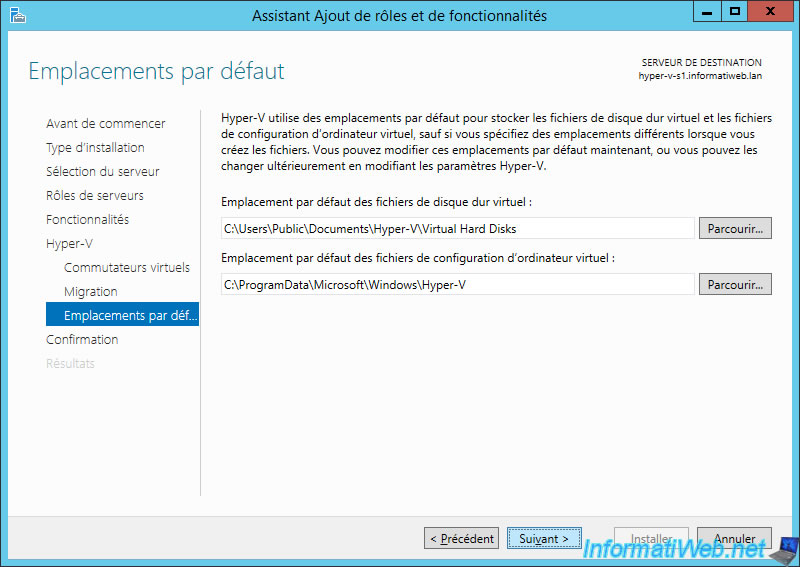 Click Install and wait while installing the Hyper-V role.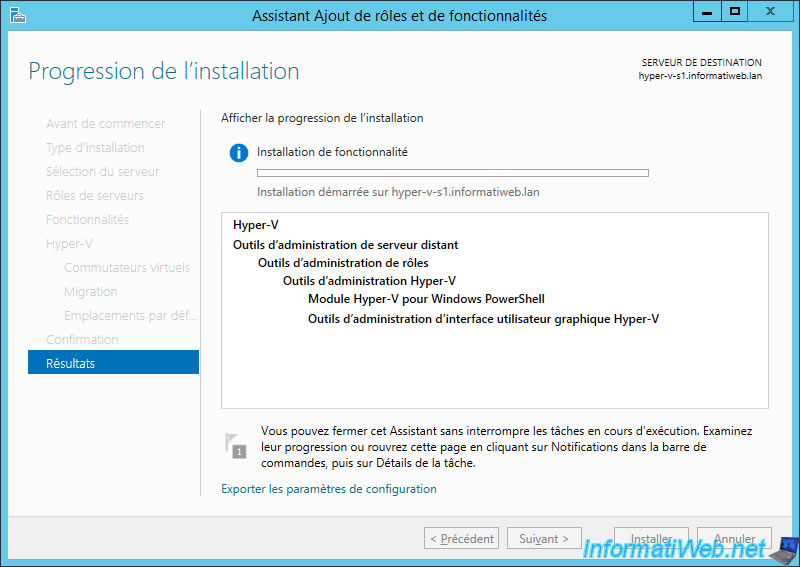 Once the Hyper-V role is installed, you will need to restart your server.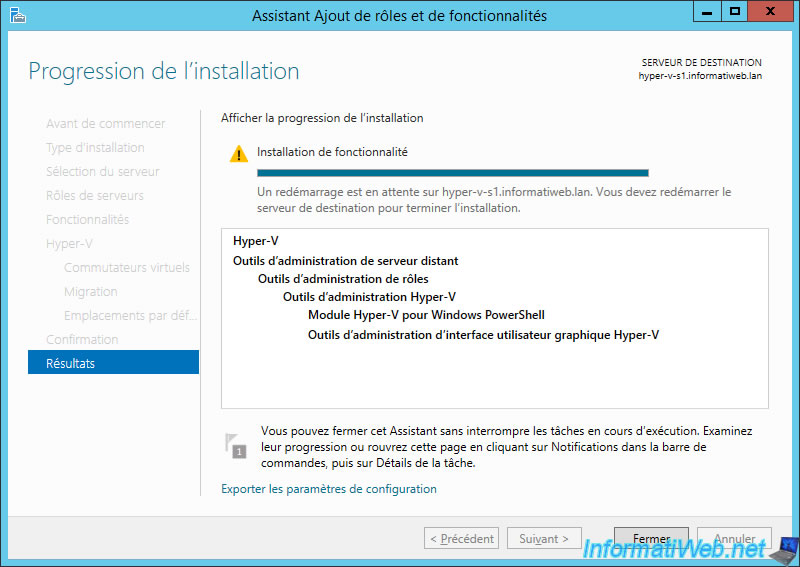 After the server restarts, the Hyper-V role will appear in the server manager.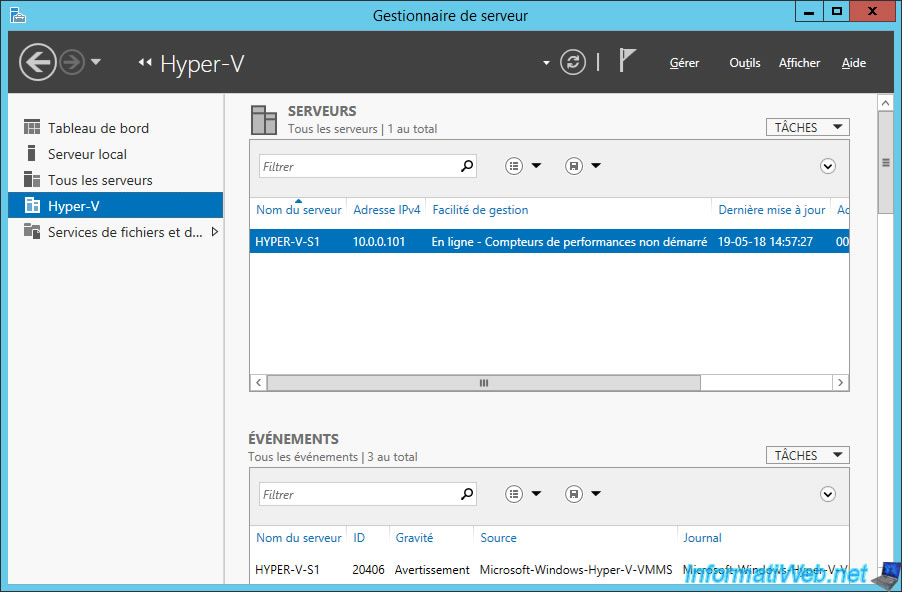 In the "start menu" of Windows Server 2012 R2, you will find 2 shortcuts :
Hyper-V Manager : allows you to manage your Hyper-V server and create new virtual machines
Hyper-V Virtual Machine Connection : allows you to use a virtual machine in window mode

The Hyper-V Manager on Windows Server 2012 R2 looks like this.
To change the settings of your Hyper-V server, click "Hyper-V Settings" in the right menu.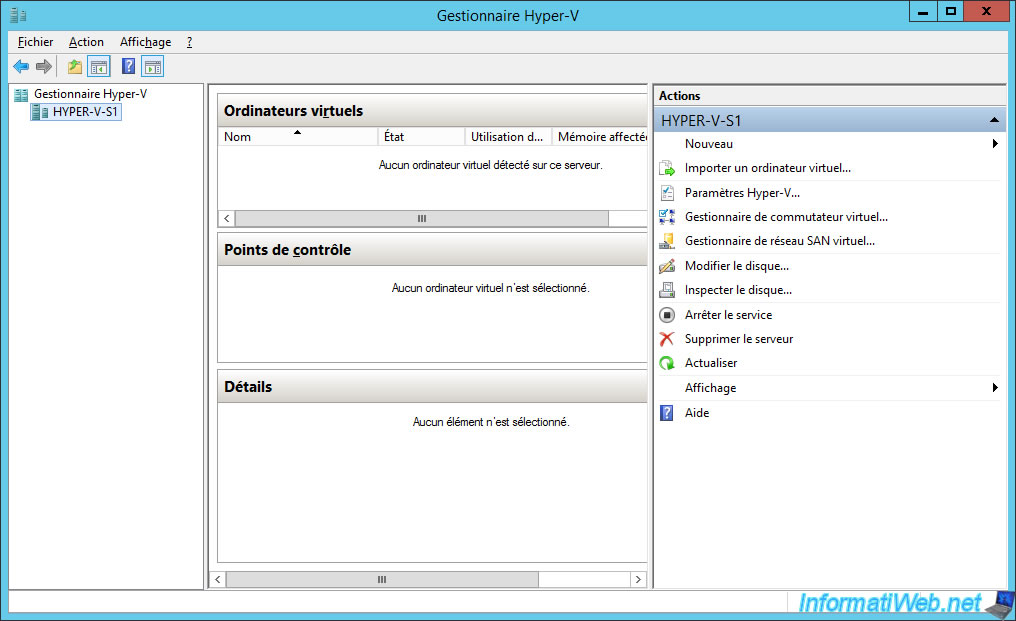 As you can see, you will be able to change the settings mentioned earlier when installing the Hyper-V role :
Virtual hard drives
Virtual computers
Live migrations