Published on : 18 January 2019 at 10:22 UTC
3. Use RemoteApp programs from the web access
On one of your client computers, access the web access of your RDS server.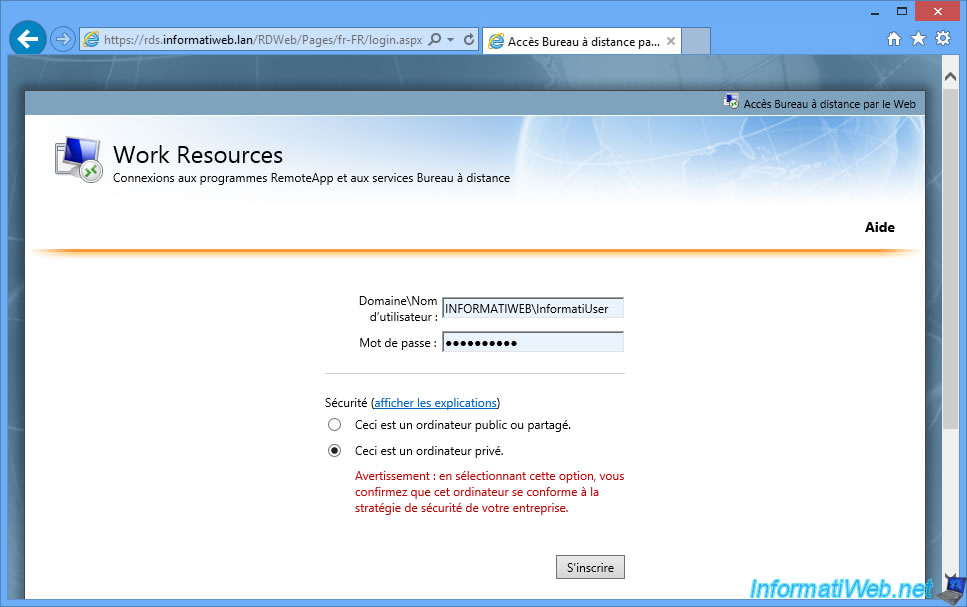 As expected, the Excel 2013 and Word 2013 applications appear.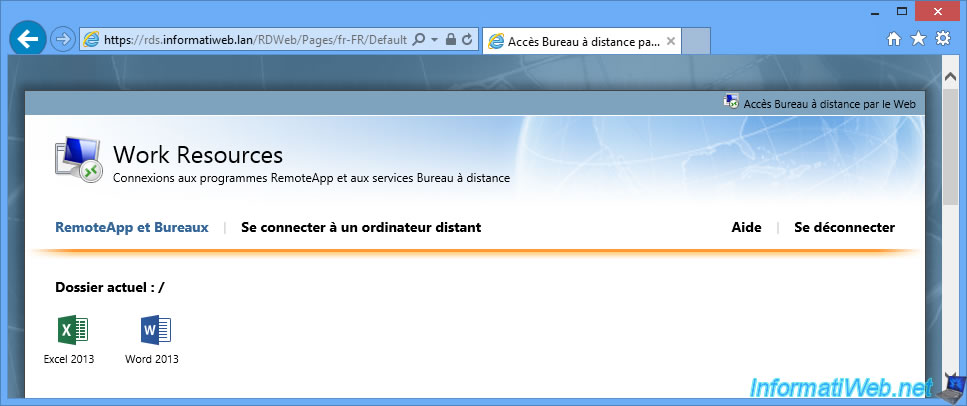 Launch the desired application.
A RemoteApp window appears.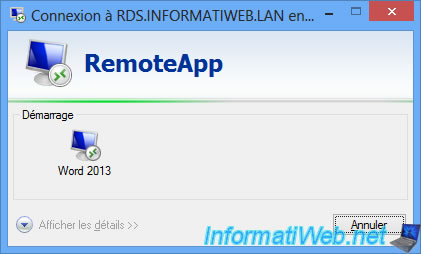 As you can see, the name of the user (in our case : InformatiUser) appears in the program.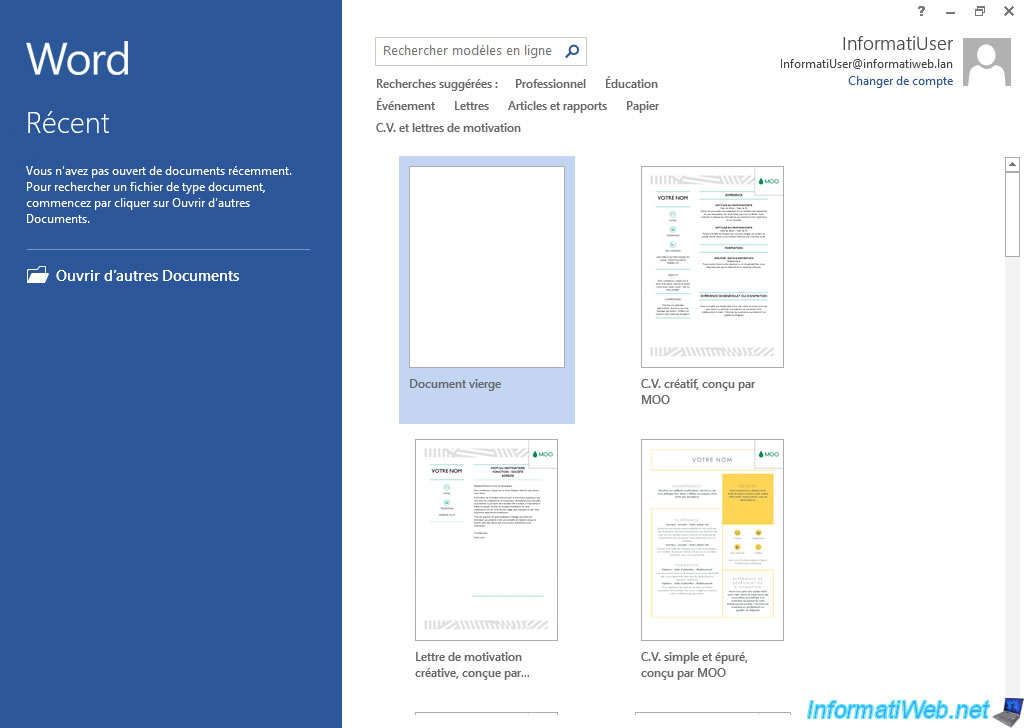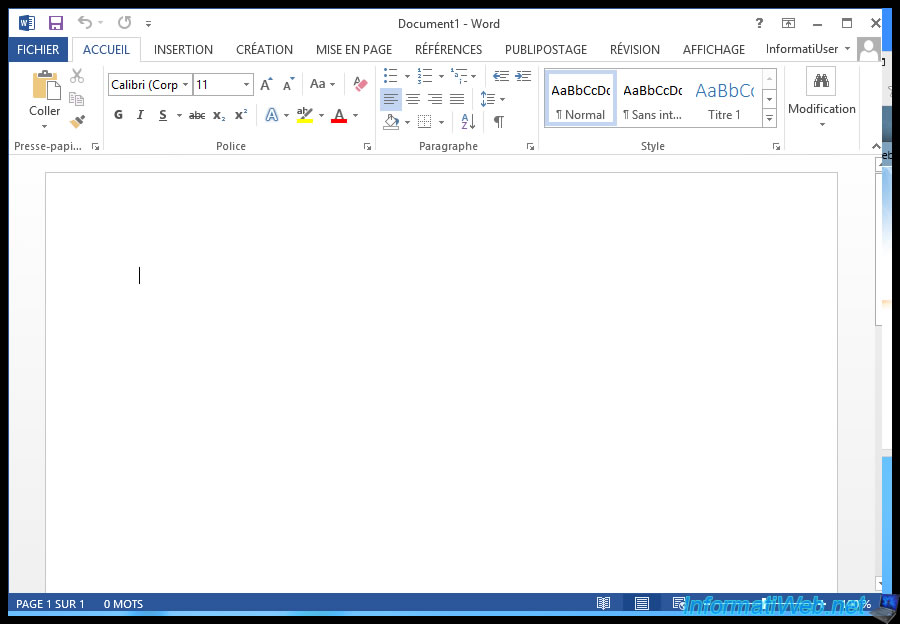 4. Access RemotAapp and desktops
In order to access these RemoteApp programs, you can also integrate them directly into Windows using the "remote connections" available in the client version control panel of Windows.
Important : for this to work, you must first secure your RDS server with a valid certificate.
This certificate must therefore come from a trusted certification authority.
If you use your own certification authority, don't forget to import the certificate of your authority into the certificate store of your client PCs as well. Otherwise, the certificate will be considered as not valid.
To access it, open the control panel and select "Show by : Small icons" at the top right.
Then, click "RemoteApp and Desktop Connections".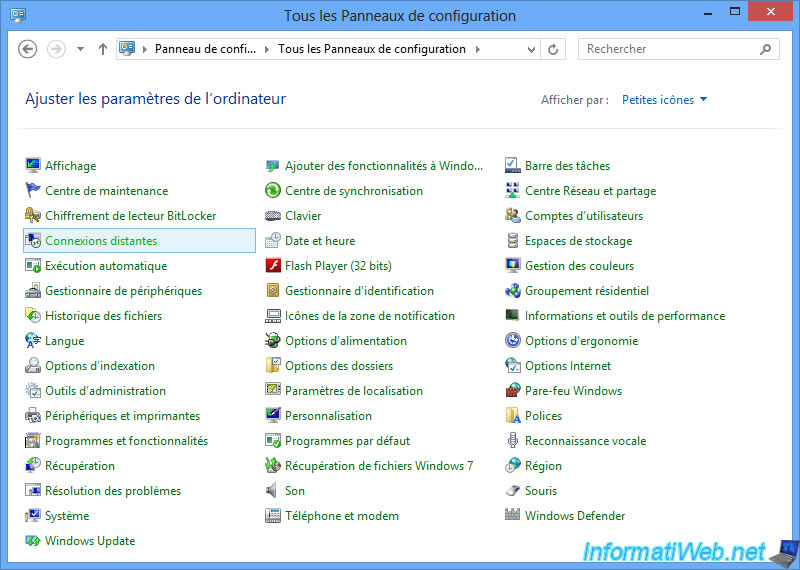 Click "Set up a new connection with RemoteApp and Desktop Connections".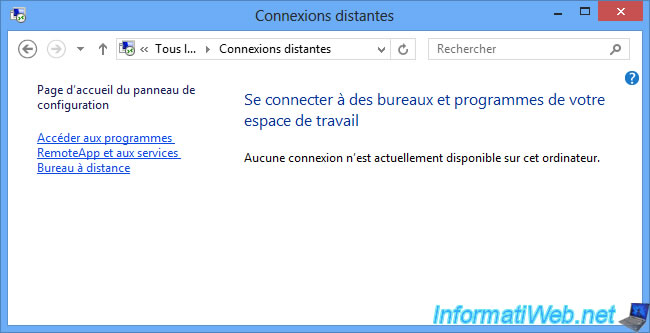 Specify the address of your RDS server (or more precisely the server where you installed the web access) like this :
Plain Text
https://rds.informatiweb.lan/RDWeb/Feed/webfeed.aspx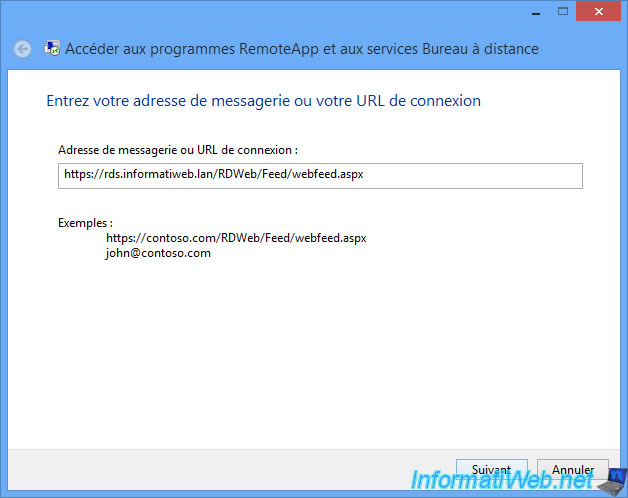 Confirm the configuration of this connection.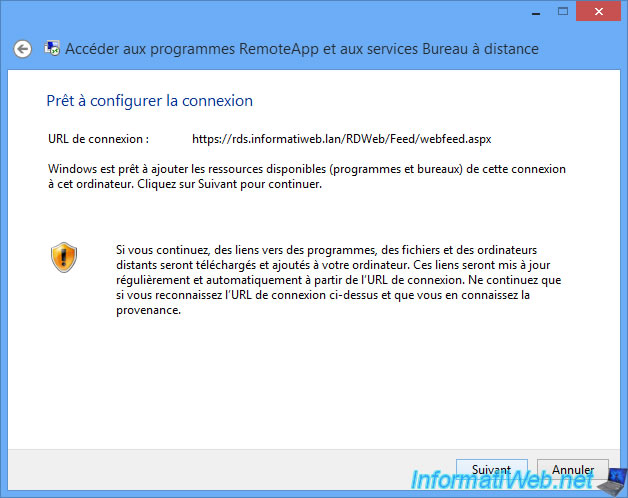 Log in with the same Active Directory user as on your Windows session on the client computer.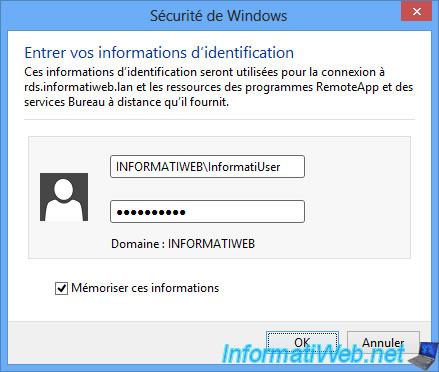 Wait while adding resources.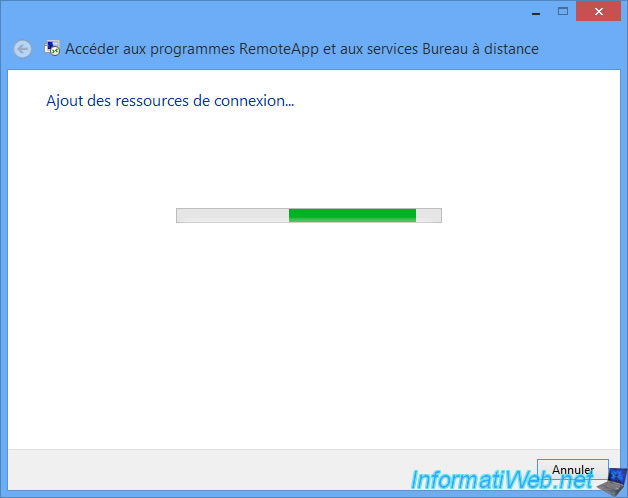 As you can see, our InformatiUser user currently has access to 2 RemoteApp programs.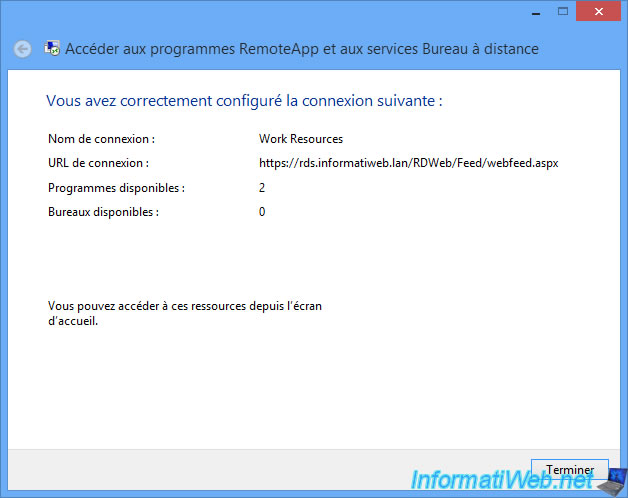 Now that the remote connections are configured, you see a "Work Resources" block.
Click on "Show resources".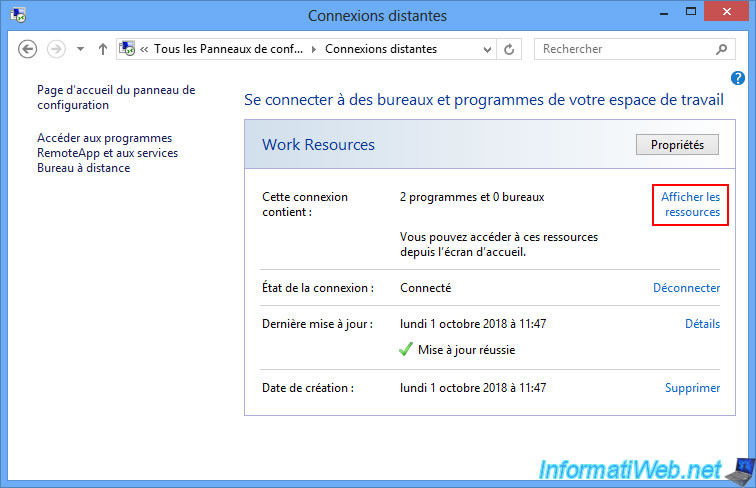 This link will open a "Work Resources (RADC)" folder with shortcuts to the RemoteApp programs that the user has access to.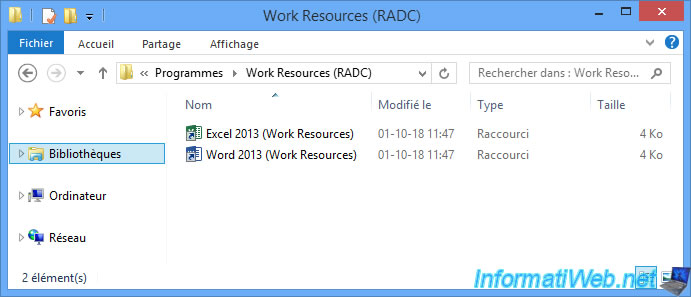 If you look at the path of this folder, you must have realized that it was simply a subfolder of the Windows "start menu".
Which means that these programs will also appear in the modern Windows interface.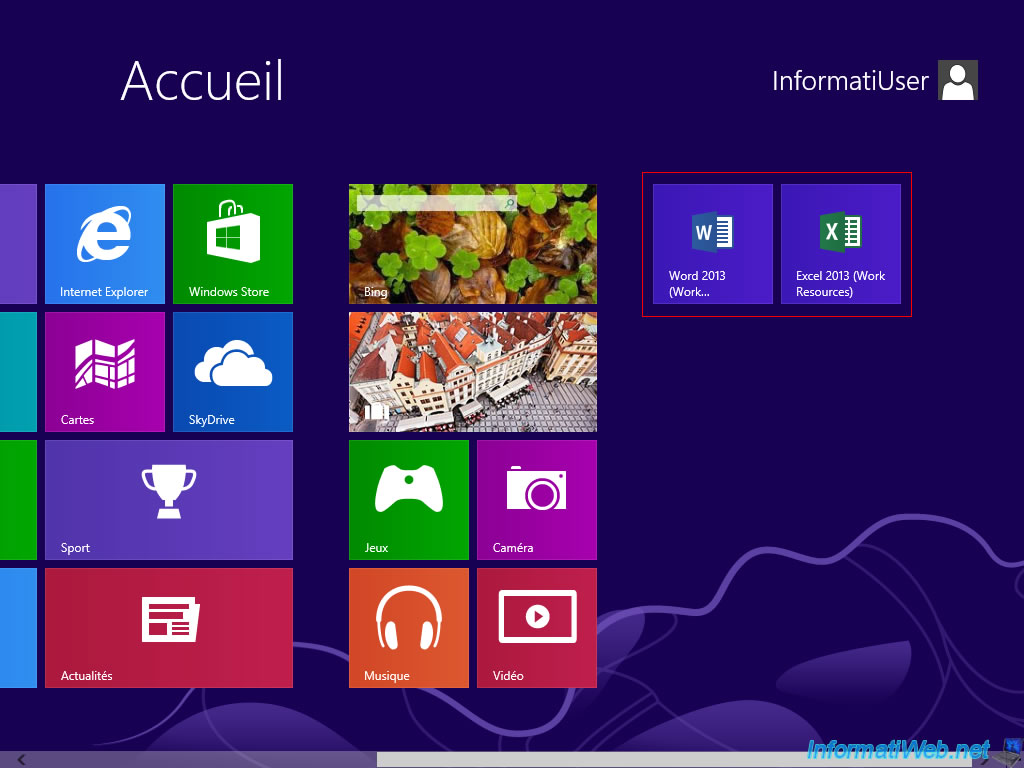 But also in the equivalent of the start menu under Windows 8 and 8.1.
When the user launches one of these programs, he will see that it's actually a RemoteApp program running on your RDS server.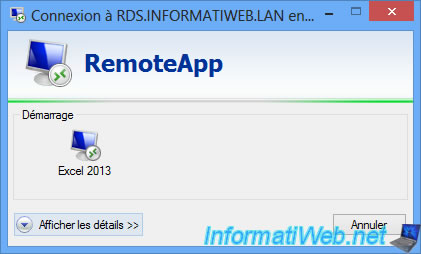 Then, the program appears as if it were a locally launched program.