Published on : 04 January 2019 at 11:53 UTC
When you want to deploy the Remote Desktop Services (RDS) that replaces the Terminal Server (TSE) solution that existed under Windows Serve 2003, you have 2 options :
perform a quick start to create a "functional" RDS infrastructure in a few clicks, but this isn't recommended in production
perform a standard deployment to deploy each RDS service to the desired server and manage collection creation manually
For those who want to use the "standard deployment" method that we recommend (especially for production environments) or who want to know exactly what the RDS solution is, refer to our previous tutorial : Windows Server 2012 / 2012 R2 - RDS - Deploy a RDS infrastructure (session-based desktops)
1. Configuration used
For this tutorial, we will use :
an Active Directory server
a RDS server linked to our Active Directory on which we will deploy Remote Desktop Services in quick start
a Windows 8 client linked to our Active Directory
2. Deploy the RDS solution with a quick start
To deploy the RDS solution quickly, log in to your future RDS server with a domain administrator account and launch the Add Roles and Features wizard.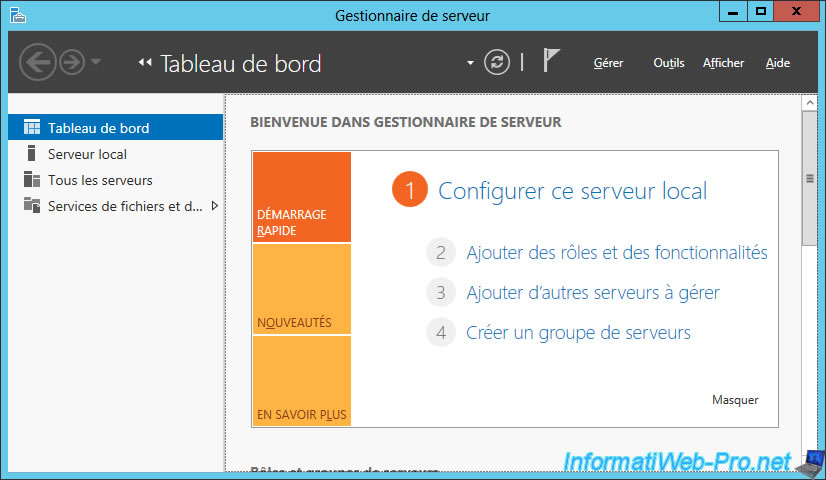 Click Next.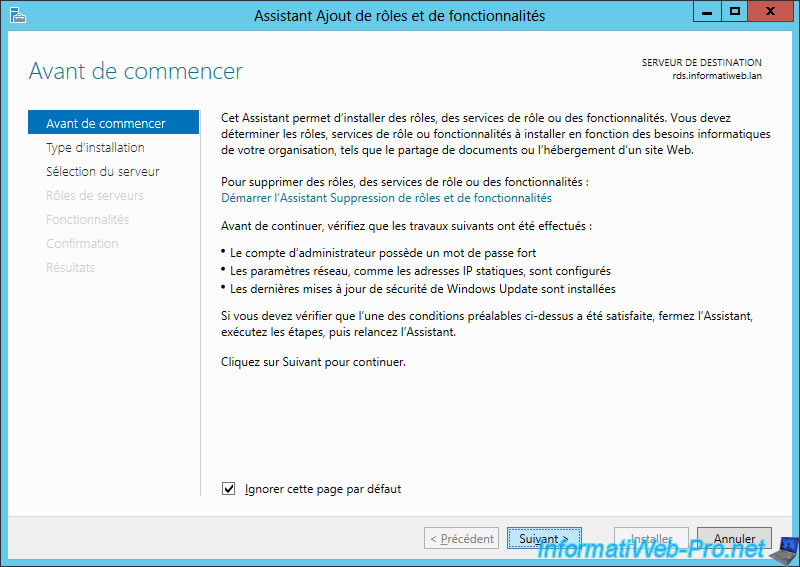 Select "Remote Desktop Services Installation".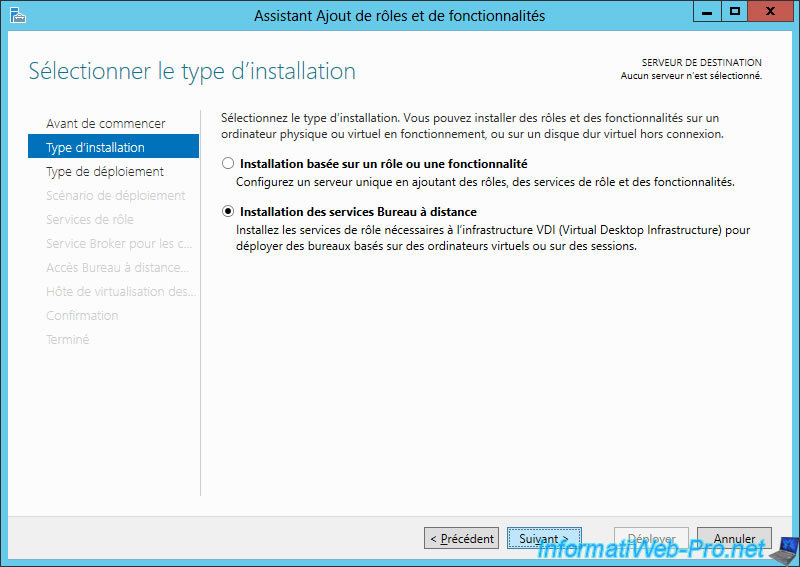 Select "Quick Start".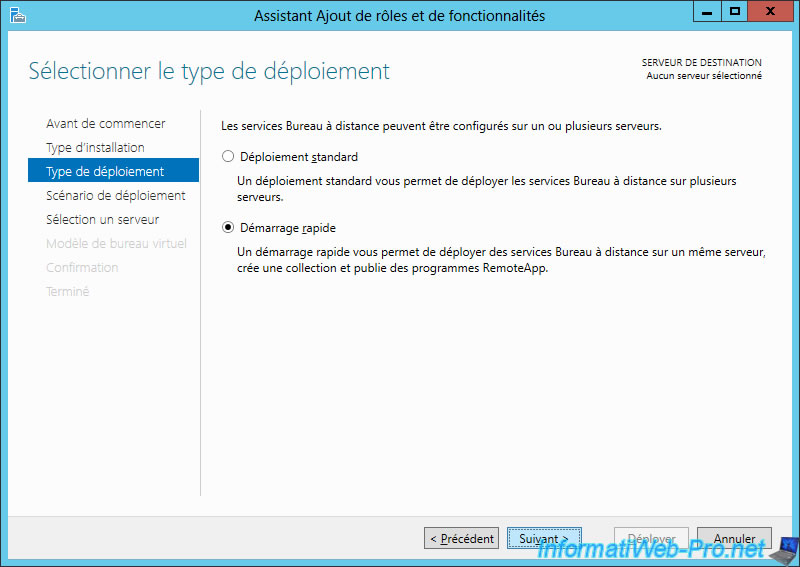 Select "Session-based desktop deployment".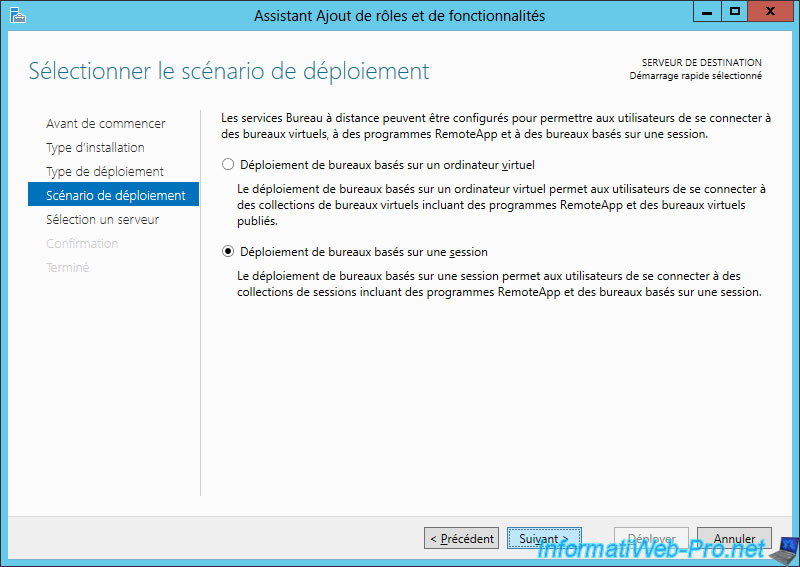 Select the RDS server where you want to deploy :
the Broker service
Remote Desktop Services web access
the "session host" role service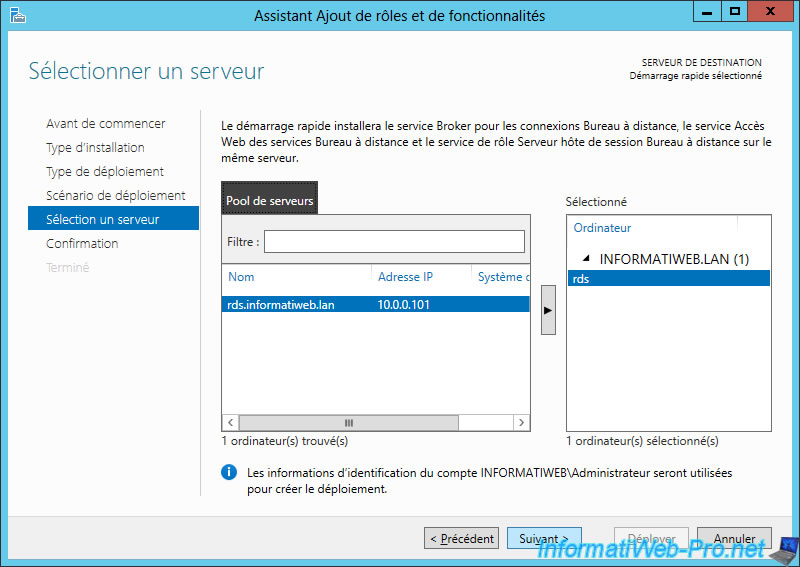 Check the box "Restart the destination server automatically if required" and click "Deploy".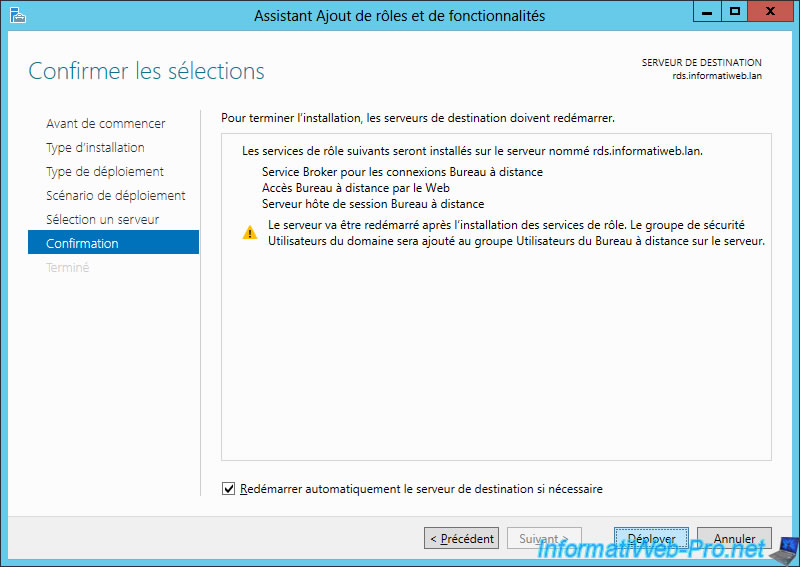 Wait while deploying Remote Desktop Services mentioned earlier.
Note : as you can see below, the wizard will also create a session collection with RemoteApp programs.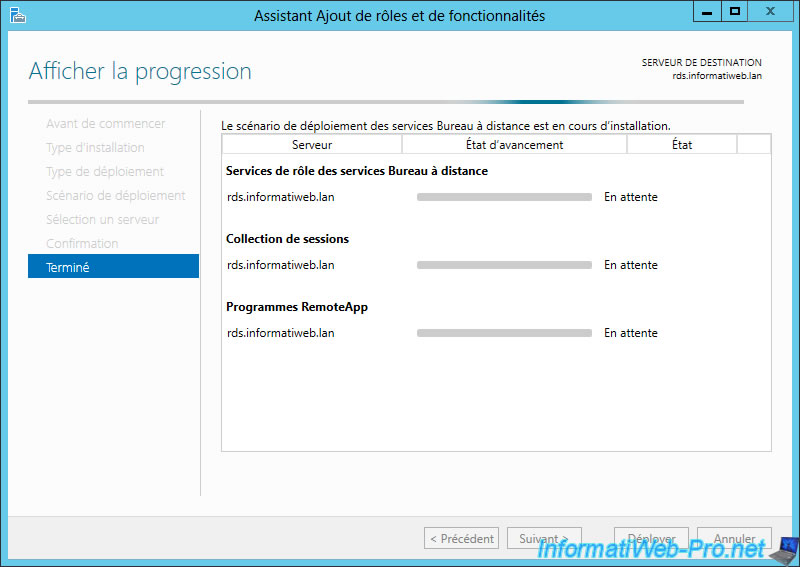 During the restart, Windows Server will configure Windows features.

Log in with the same account as before.

The wizard automatically reappears and completes Remote Desktop Services deployment, as well as publishing default RemoteApp programs.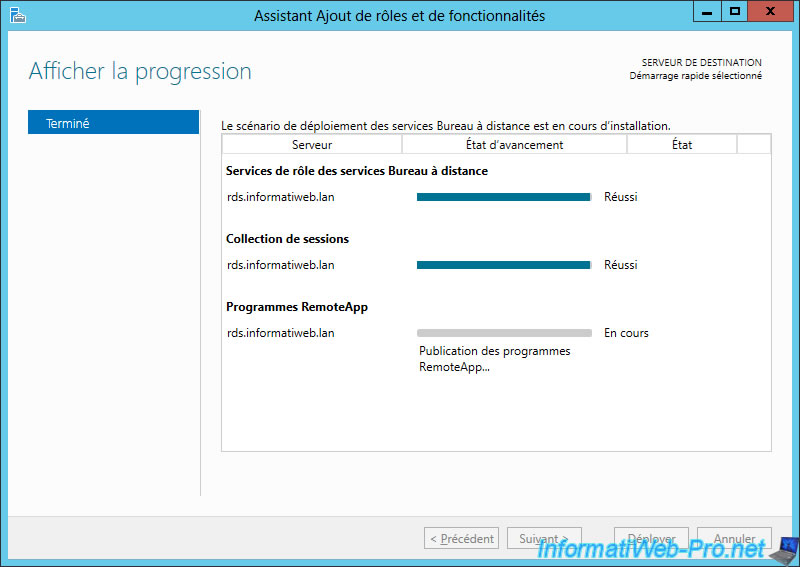 Once the deployment is complete, the wizard will offer you access to the web access of your RDS solution.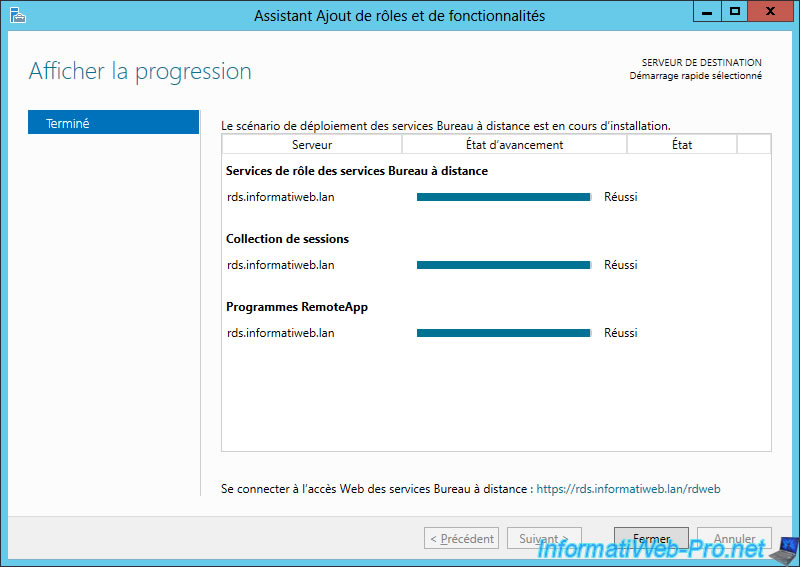 3. Testing the web access and RemoteApp programs
When you attempt to use the web access of your RDS server, you will see an error message : There is a problem with this website's security certificate.
Indeed, by default, your RDS server and its web access are secured with self-signed certificates.
These are not "valid", because you can't trust a self-signed certificate.
To fix this problem, refer to step "7. Get a valid certificate from its certification authority" from our previous tutorial : Deploy a RDS infrastructure (session-based desktops)
Once your RDS server is secure with a valid SSL certificate, you will have access to the web access of your RDS server.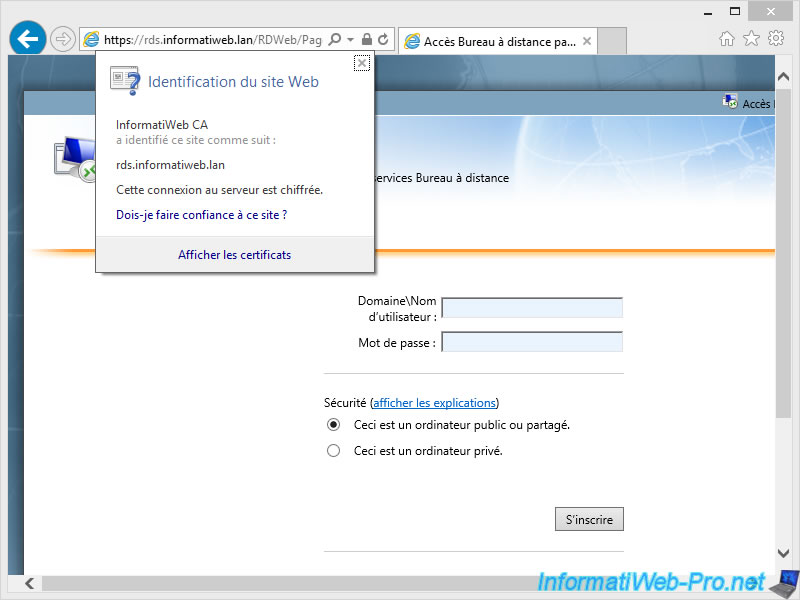 Log in with a user of your Active Directory.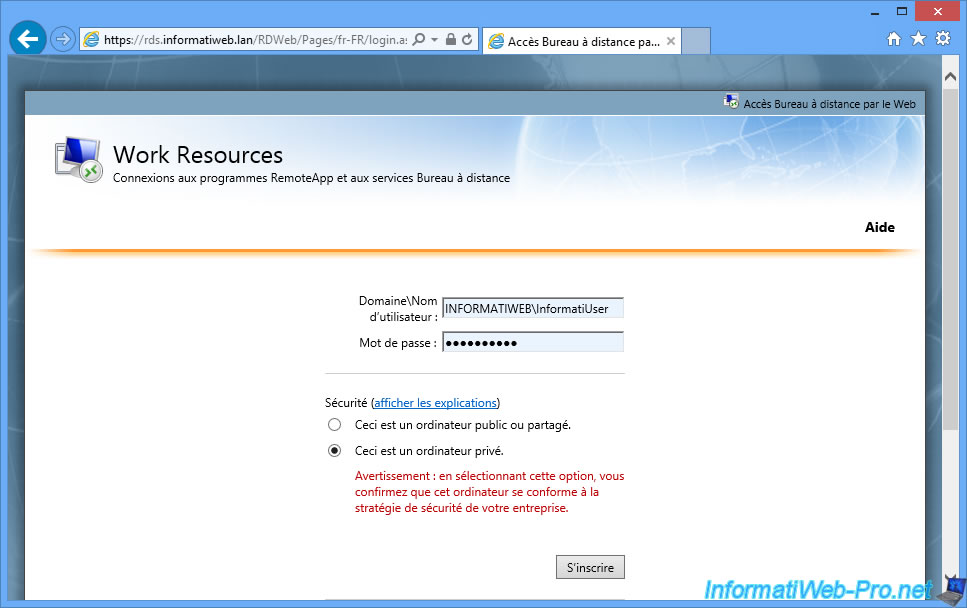 As you can see, you will only have access to RemoteApp programs, which are the ones built into Windows and Windows Server by default.
Indeed, this collection of RemoteApp programs was created by the wizard for testing purposes only.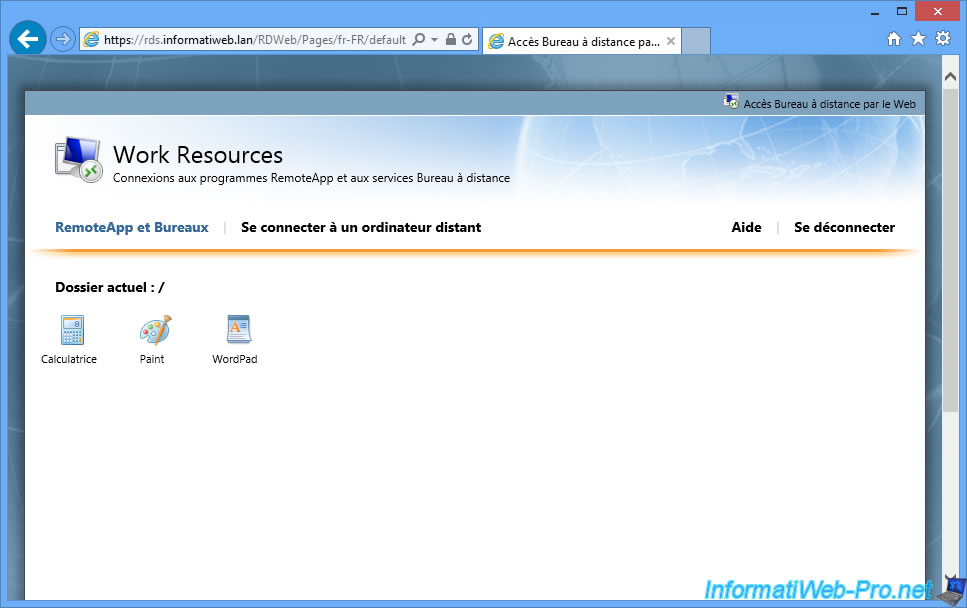 Launch one of these programs and you will see that the program will be launched from your RDS server.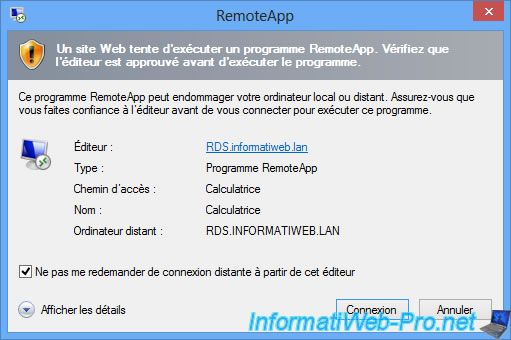 Your client PC connects to your RDS server.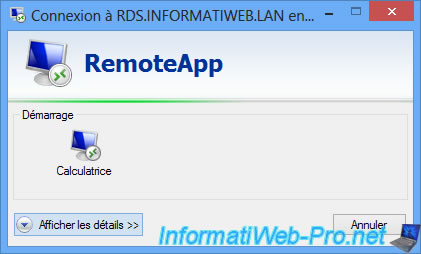 And the RemoteApp program appears.
Warning : this program actually runs on the server and not on your client PC. Indeed, you only see an "image" representing the program launched on the remote server.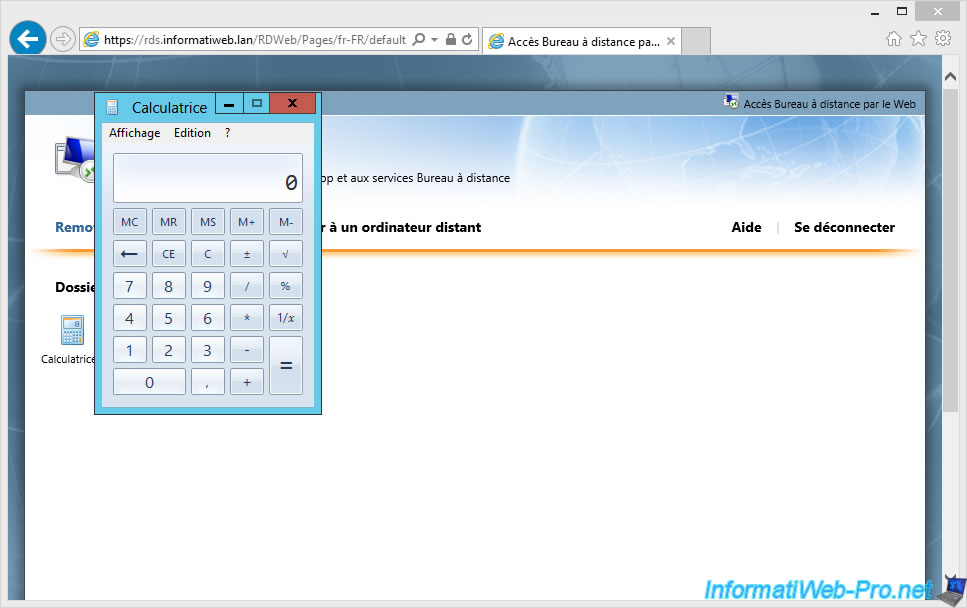 4. Publish the desktop instead of RemoteApp programs
As explained earlier, Microsoft's "quick start" allows you to deploy the minimum RDS services required to use this solution, but it also automatically publishes 3 RemoteApp programs in this collection.
Unfortunately, this also masks the possibility of publishing the desktop itself.
To publish a desktops collection instead of RemoteApp programs, open the Server Manager and go to : Remote Desktop Services -> Collections -> QuickSessionCollection.
Then, in the "RemoteApp Programs" section, click : Tasks -> Unpublish RemoteApp Programs.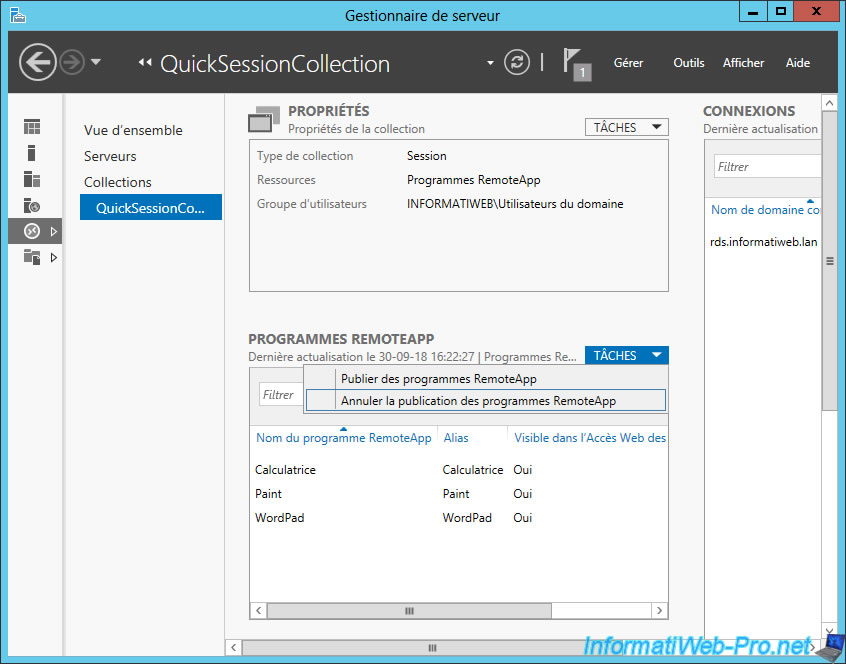 Check the box to the left of "RemoteApp Program" to tick all boxes at once, then click Next.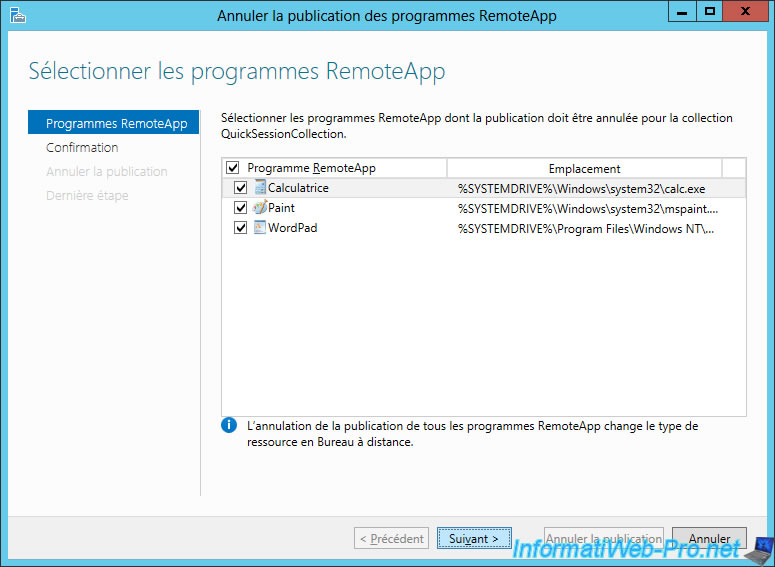 Click on "Unpublish".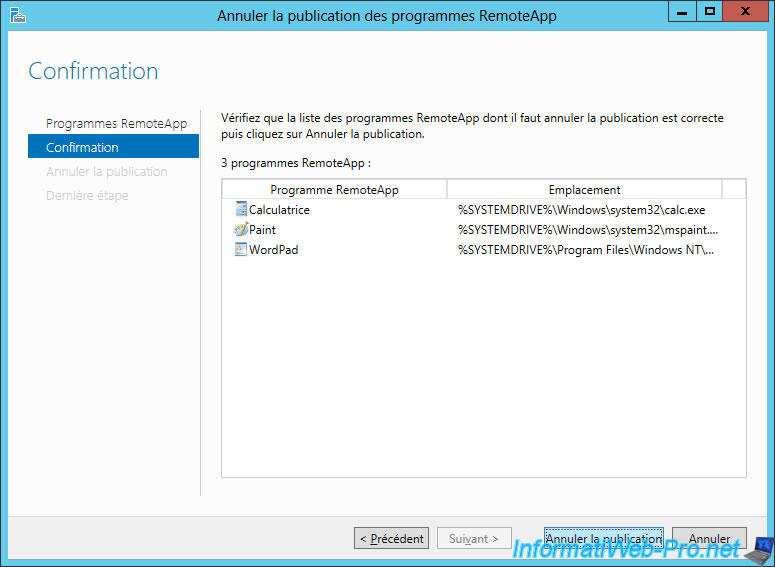 Now that RemoteApp programs are no longer published, Windows Server tells you (too late) that publishing RemoteApp programs cancels Remote Desktop publishing.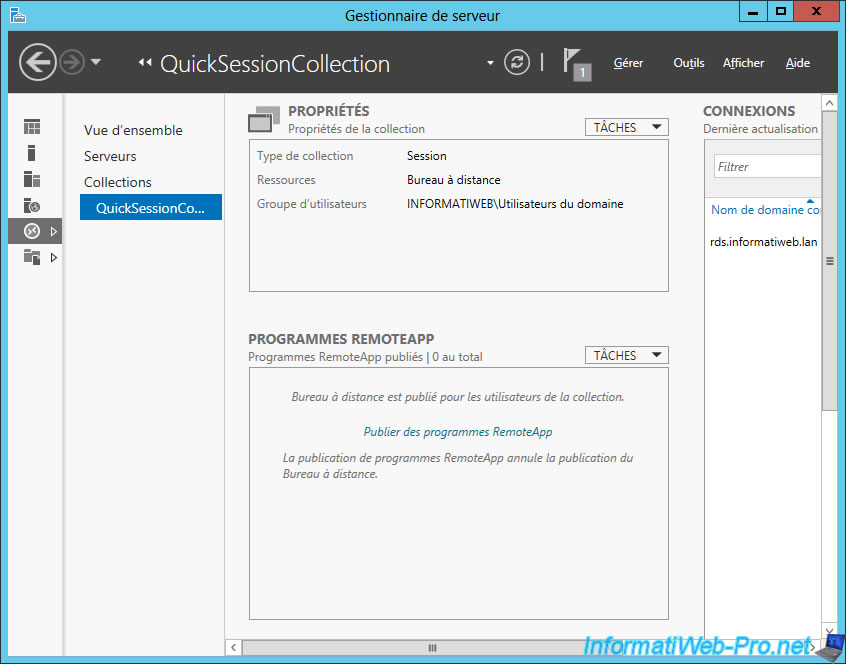 If you refresh the web access page, you will see that a Remote Desktop icon has appeared.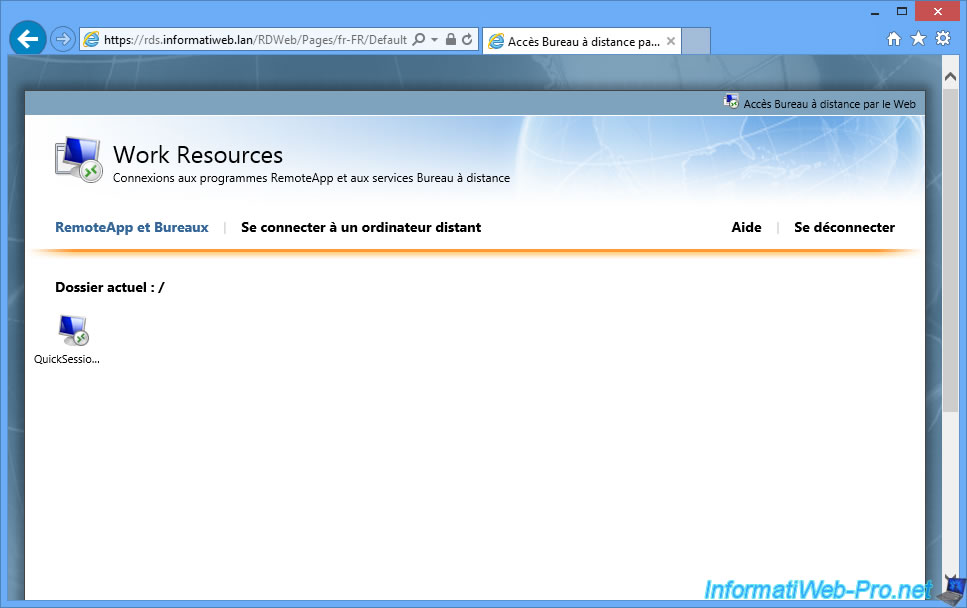 As you can see, you can now use a session on the RDS server.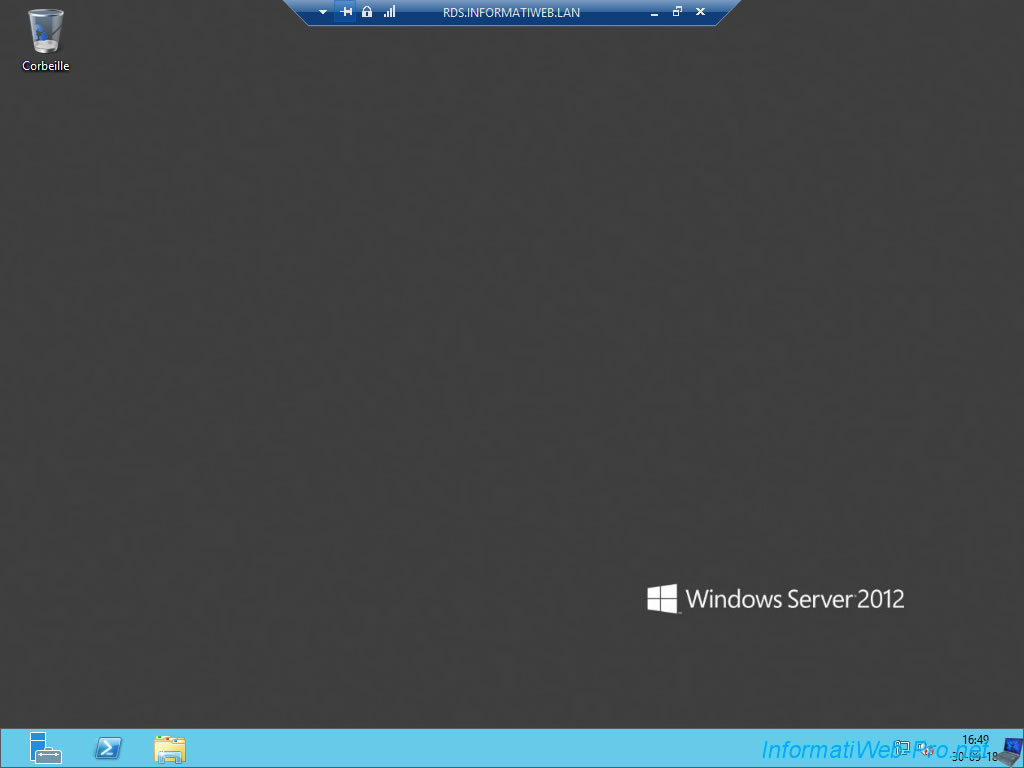 Of course, if you log in as a standard user from the web access, you will not have administrative rights on the server.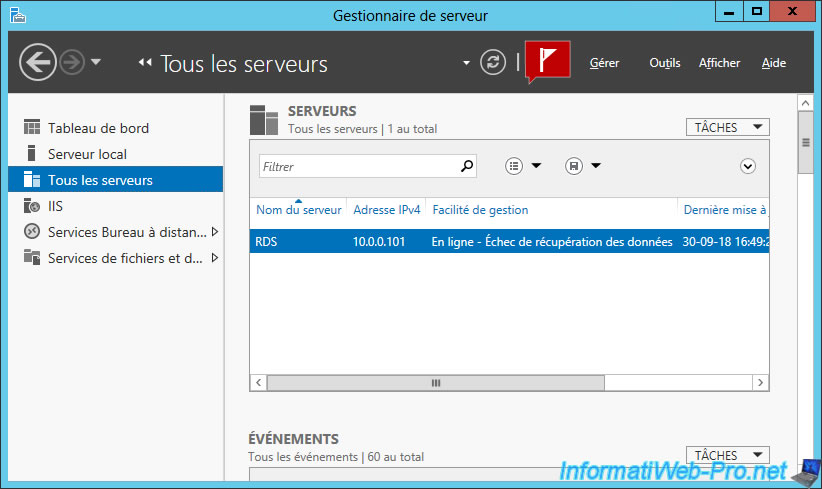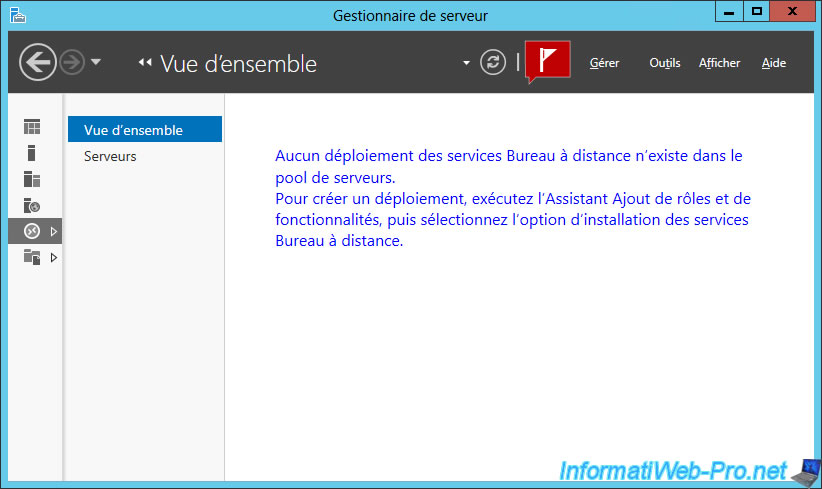 When you have finished working on this desktop, don't forget to log out from Windows.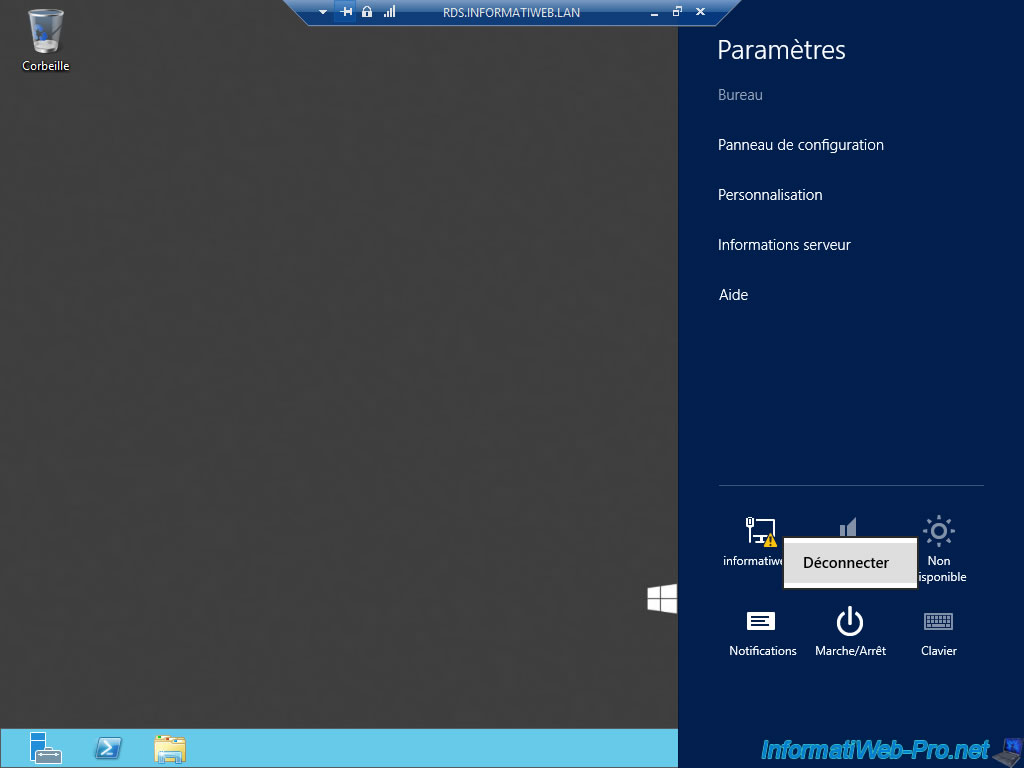 As well as log out of web access to prevent unauthorized access to published desktops and/or RemoteApps programs.