Published on : 29 December 2018 at 15:17 UTC
5. User profile disks
When you want to "publish" desktops and/or RemoteApp programs, you must do so through a collection system.
As you will see later, you also have the option of storing user data in user profile disks so that your users can find their documents on their next connections.
Since a collection includes one or more session hosts, they should be identical to maximize the user experience and to avoid various bugs due to different versions of the operating system or RemoteApp programs published via this collection.
If you have multiple servers with different operating systems, you will have to put them in different collections.
This also means that user profile disks will need to be managed by collection to prevent a file from referring to a program that doesn't exist on the target server.
For this tutorial, we created a "users_data" folder on our Active Directory server.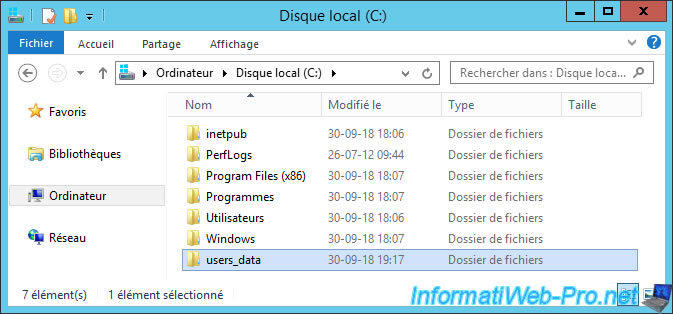 Right-click "Properties" on this one, then go to the "Sharing" tab and click "Share".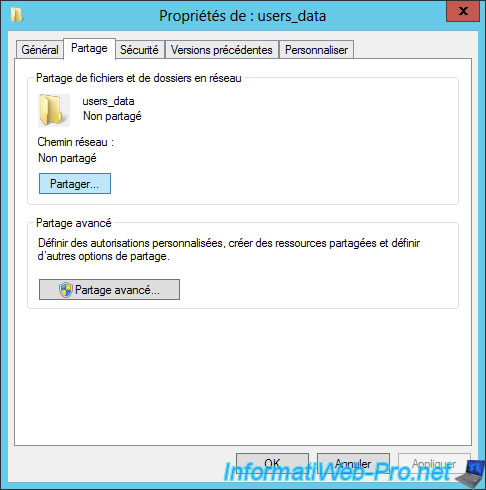 There is no need to change the permissions on this share, because it's your RDS server that will change them automatically when creating the collection.
Click Share.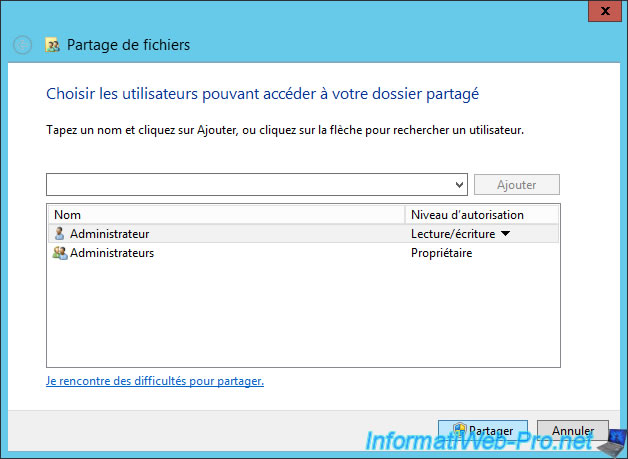 That's it, your folder is shared.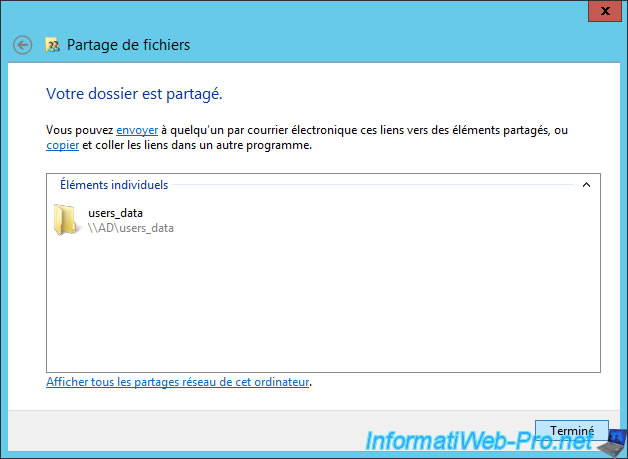 In the "Sharing" tab, you see a network path.
This is the path you will need to specify later when you create your desktops or RemoteApp programs collection.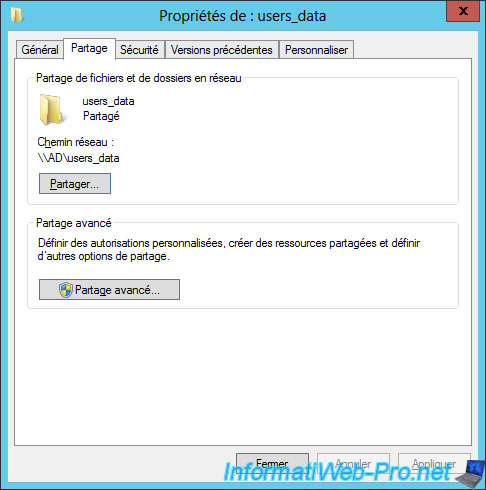 6. Create a desktops collection
To create your first collection, you can go to "Remote Desktop Services -> Overview" and then click on the "3. Create session collections" link located under "Session-Based desktop deployment".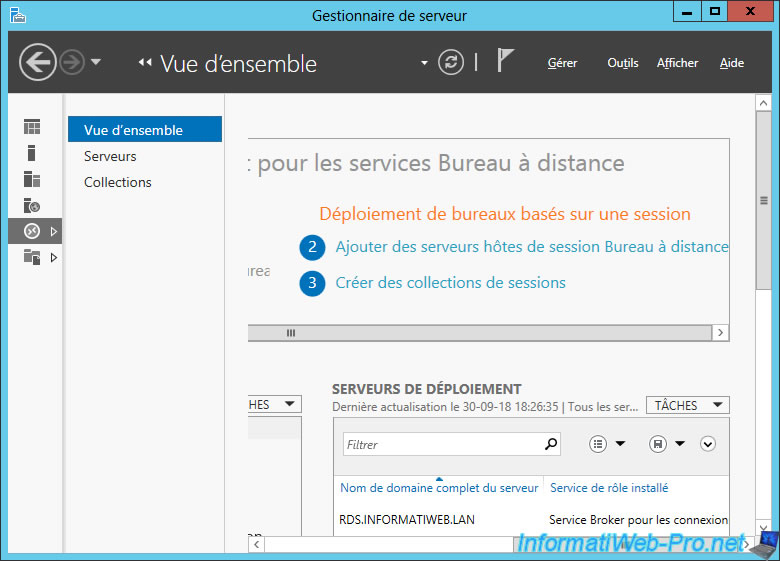 OR go to "Collections" and click on "Tasks -> Create sessions collection".
The "Create Collection" wizard is displayed.
Enter a name for your collection
In our case : WS 2012 desktops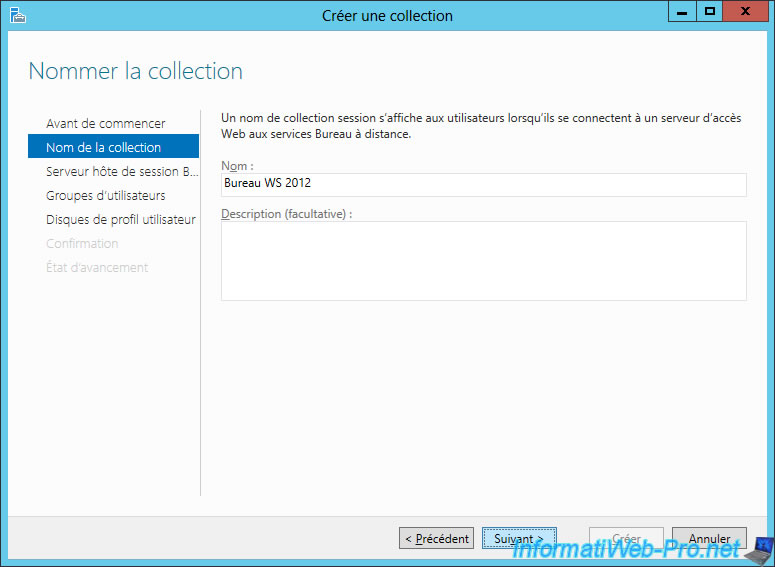 Select the host servers that will be used for this collection.
In our case, we only have one server.
Add the user groups that will be able to access these desktops.
In this tutorial, we will allow all domain users.
However, in production, you should create special groups to only allow users who can access these desktops.
Indeed, legally, you will have to buy as many licenses as people authorized to use these offices and not according to the number of people who will actually use these desktops.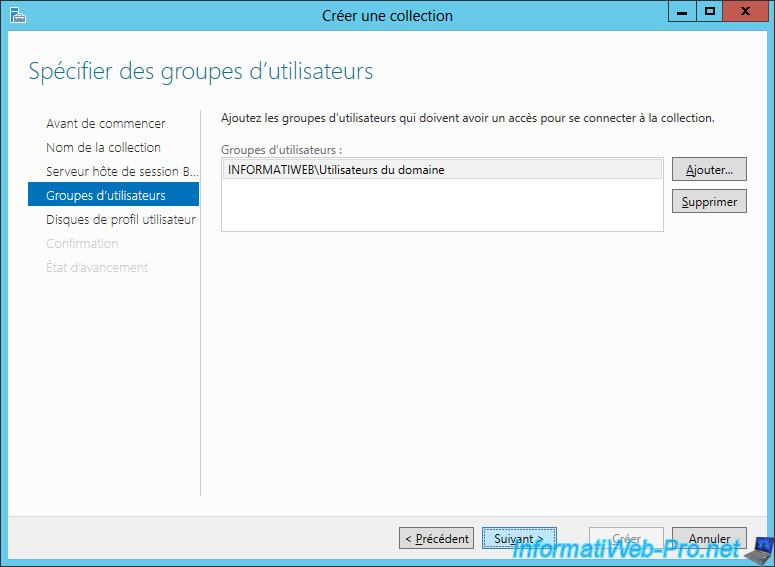 Because users may connect to different servers that are part of the same collection, Microsoft has created the "User profile disks" feature.
This allows your users to find their data, even if they seamlessly connect to one of the other servers of your collection.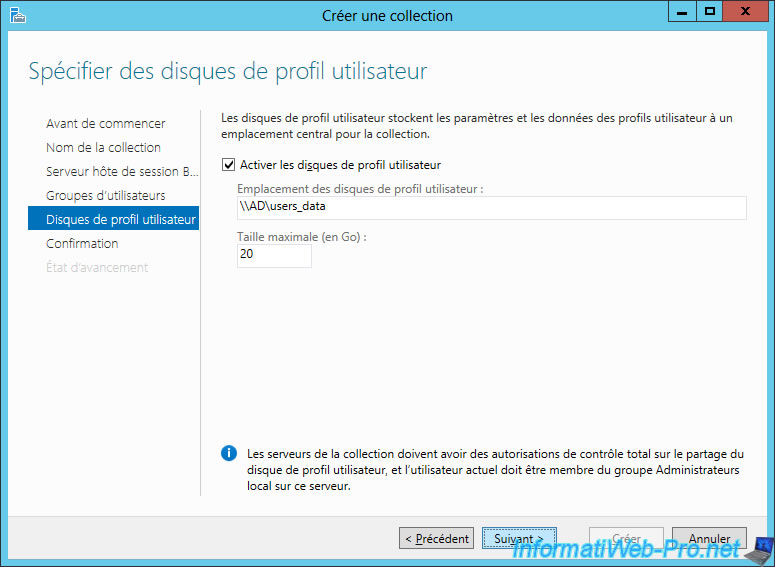 A summary is displayed.
Click Create.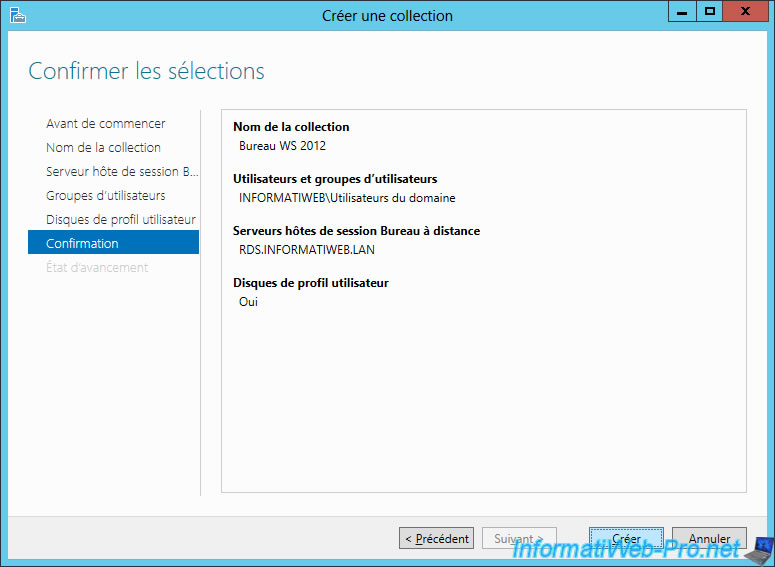 Wait while creating the collection.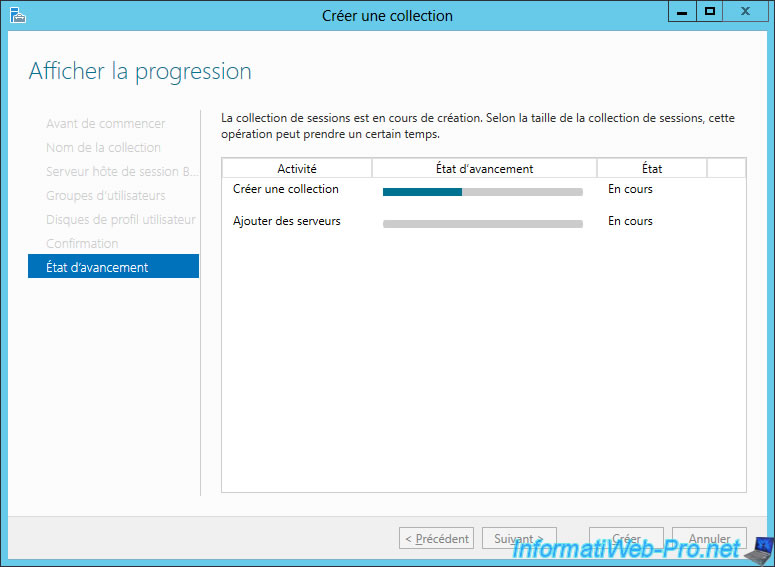 Once the collection is created, click Close.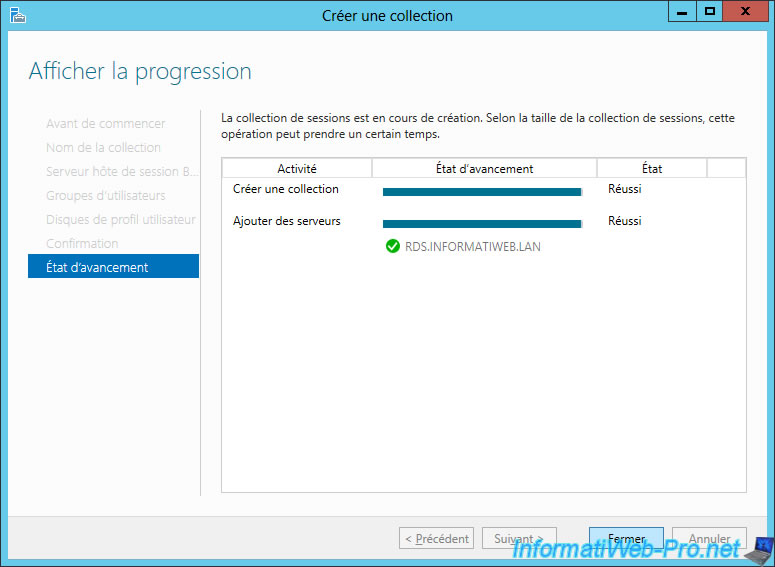 In the "Remote Desktop Services" section of the Server Manager, you will find your new collection : Office WS 2012.
Note that when you select "Collections", you see all the connections of your users.
But if you select a specific collection, you will only see the connections for that collection.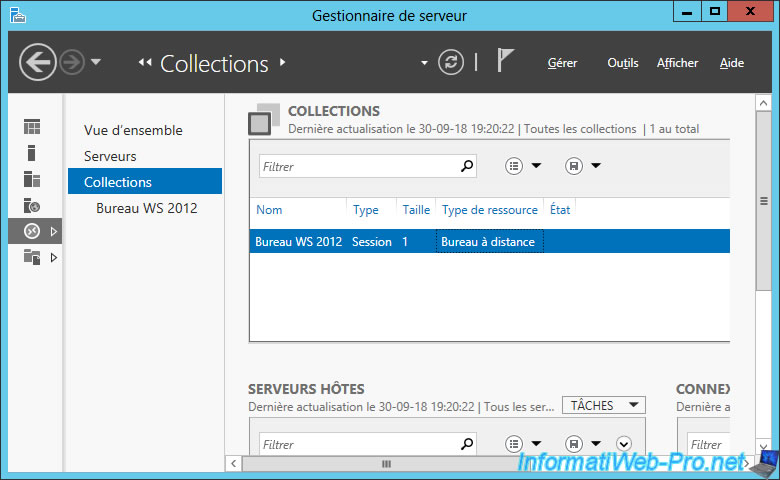 As you can see, by default, the resource type is : Remote Desktop.
In the "RemoteApp programs" section, you will also see these messages :
Plain Text
Remote Desktop is published for the users of the collection.
Publishing RemoteApp programs will unpublish the Remote Desktop.
Our users can therefore remotely access a session that will be open on our session host server running Windows Server 2012.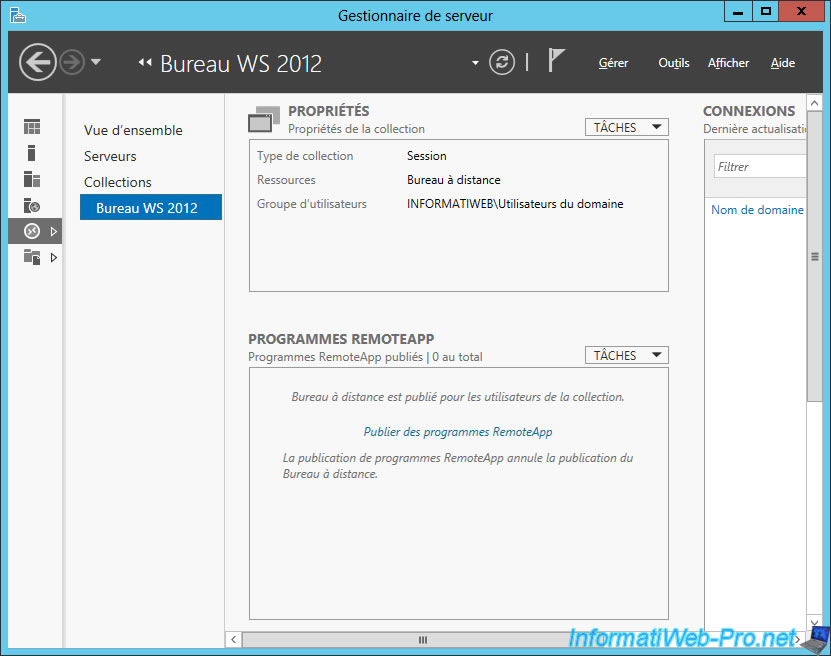 Nevertheless, currently, if you try to access the web access of your RDS server, you will see that there is a certificate's problem.
This is simply because it's by default a self-signed certificate. It's therefore normal that it doesn't come from a trusted certification authority (CA) since the server has automatically generated it.